Why use EPiC?
The EPiC dashboard is a prescribing data tool that can be used by GPs to explore their prescribing behaviours. EPiC also allows GPs to compare their patient prescribing to all patients within their practice and to the national data set. With EPiC Diabetes, GPs can view the data for any of their patients dispensed funded glucose-lowering medicines.
Evaluating Prescribing to inform Care is EPiC!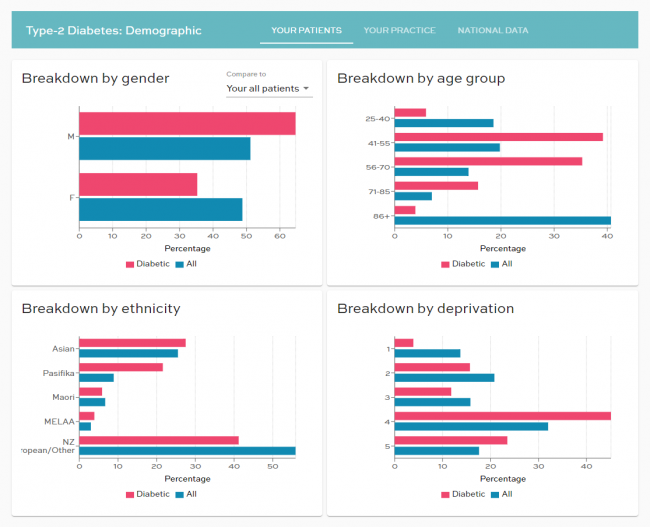 ---
How does the EPiC dashboard work?
Created by Dunedin health data company Airmed, the EPiC dashboard uses up-to-date aggregated dispensed medicine data from the Pharmaceutical Collection to create an interactive, personalised dashboard.
Once logged in, GPs can explore prescribing trends for their own patient population, for patients within their practice and nationally. The National EPiC dashboard can be used by anyone, including non-prescribers, and can be viewed without logging in to EPiC.
EPiC dashboard users can explore the demographics and proportion of patients taking selected funded medicines. EPiC Diabetes focuses on diabetes prescribing, so users of EPiC can explore the data around patients dispensed funded glucose-lowering medicines. EPiC is an interactive tool, meaning that GPs can apply filters to create data views specific to their needs. This allows for reflection of one's own medicine management practices and comparison with colleagues.
EPiC Diabetes is broken down into three main data stories:
Demographics – Patients who have been dispensed funded glucose-lowering medicines are grouped by their demographic profile (gender, age group, ethnic group and deprivation quintile).
Current treatments – Patients are grouped by the funded glucose-lowering medicine they have been dispensed.
Stepped treatments – Patients are grouped by the number of funded glucose-lowering medicines they have been dispensed.
EPiC tips
Tips are provided throughout EPiC on how to review healthcare with respect to prescribing for priority populations such as Māori and Pacific peoples, or those living in areas of high socioeconomic deprivation.
Data and privacy
Patient-level data are not provided in EPiC; all data are aggregated. All users of the EPiC dashboard need third-party identity verification to protect their privacy and our databases.
Why EPiC? Evaluating Prescribing to inform Care
"EPiC dashboards have been designed to support several of the key recommendations outlined by MCNZ and Te ORA in their Cultural Safety Baseline Data Report (Sept 2020). Our team has used robust ethnicity data to allow clinicians and others working within the primary care system to monitor equity in their workplaces. We also prompt our users to reflect on their behaviour with respect to care associated with medicine treatment, helping them become more culturally safe."


Dr Alesha Smith, Airmed director and EPiC developer.
EPiC Diabetes User Guide
This user guide video will take you through EPiC Diabetes. For more information regarding our data, please read our data methodology, specific data stories and data FAQ documents below.
Data Methodology
Specific Data Stories
Data FAQs
Get started with EPiC
New to EPiC or He Ako Hiringa? Join He Ako Hiringa and EPiC by clicking here to create your account.
Already have your accounts? If you have a He Ako Hiringa and EPiC account (and have set your EPiC password), you are ready to explore EPiC. Click the button below to go to EPiC.