Why EPiC? Evaluating Prescribing to inform Care
EPiC is a prescribing data analytics tool that can be used to explore individual prescribing behaviours and how they relate to national problems of prescribing practice.1
Prescribers can compare their own prescribing, over time, to prescribing for all patients within their practice, using age, gender, ethnicity and socioeconomic deprivation quintile filters.   
How does the EPiC dashboard work?
The EPiC dashboard uses aggregated dispensed medicine data from the Pharmaceutical Collection to create an interactive, personalised, report-style dashboard. You can read more about our data methodology here and data FAQs here.
Once logged in, prescribers can explore prescribing trends for their own patient population, their practice and nationally for a range of defined themes.
EPiC has been designed to support several of the key recommendations outlined by MCNZ and Te ORA in their Cultural Safety Baseline Data Report (Sept 2020). Our team has used robust ethnicity data to allow clinicians and others working within the primary care system to monitor equity in their workplaces. We also prompt our users to reflect on their behaviour with respect to care associated with medicine treatment, helping them become more culturally safe.

Dr Alesha Smith, EPiC developer
1 The term 'problem of practice' originates in the education sector; however, it can be adapted for use in the health sector. In the education sector 'problem of practice' is defined as: "An area that a school or school district identifies that focuses on the instructional core, is directly observable, is actionable, and connects to a broader strategy of improvement." Identifying problems of practice may be seen as cornerstones to any theory of improvement. For our use, we have adapted the definition to: "An area of prescribing practice, identified through the national dispensing data, that is actionable by health practitioners, and may connect to a broader strategy of improving equitable access to medicines and health improvement." The process for defining the problem of practice, which involves reflecting on data and consulting with key stakeholders, aligns with the key objectives of He Ako Hiringa and our work towards achieving medicine access equity. He Ako Hiringa does this through initial development of the problem of practice with an advisory group followed by formalised engagement with stakeholders.
---
EPiC Demo
---
Get a feel for EPiC by exploring EPiC Demo. This demonstration account of a primary care clinician allows a non-logged in user to view a primary care prescriber's data, the associated practice data, and the national data. You can use it to navigate EPiC's features, filters and layout. Using EPiC Demo is easy, you don't even need a log in.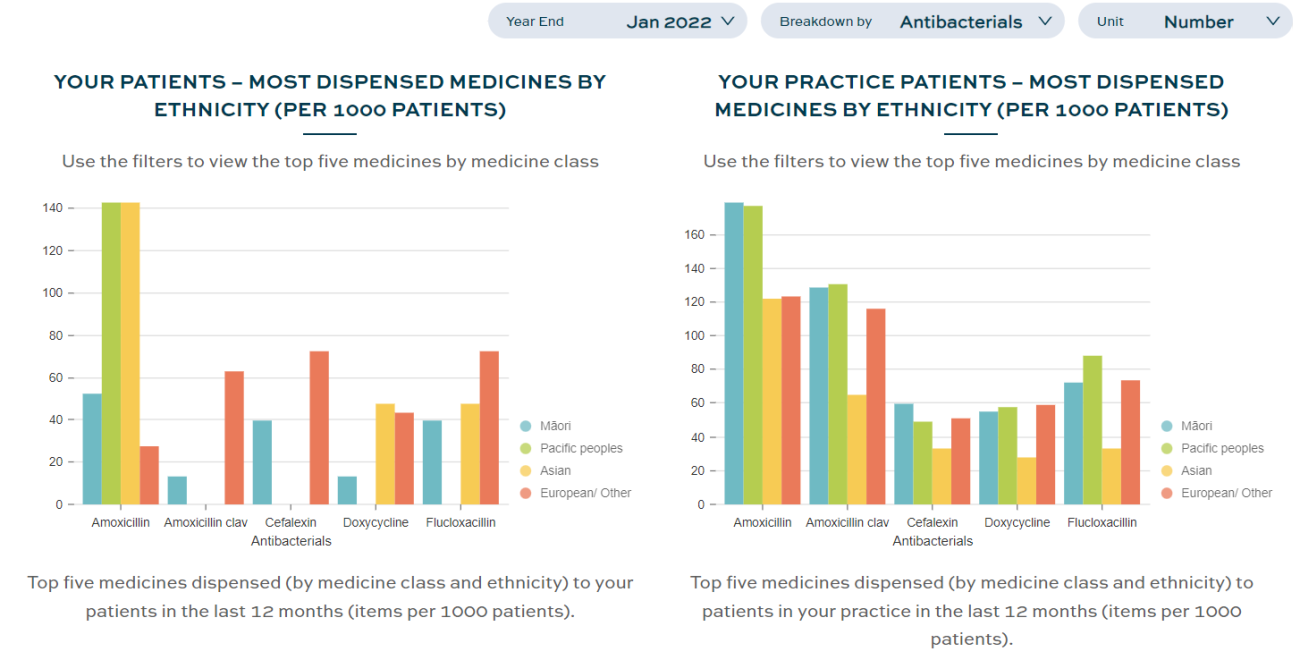 ---
About EPiC
---
EPiC data themes and stories
EPiC has six data themes associated with medicine access equity for antibiotics, asthma, cardiovascular disease, gout, type 2 diabetes, and youth mental health. Additional themes are also developed to provide analytics for medicines that have national significance, such as our annual report and cilazapril themes.
Each theme has between two and four data stories. Each data story provides the user with:
a statement outlining a national problem of prescribing practice
actionable tips on how the prescriber can use the data to improve prescribing associated with the defined problem
the prescriber's own data as it relates to the problem.
Data and privacy
Patient-level data are not provided in EPiC; all data are aggregated. All EPiC users need a verified login to protect both their privacy and our databases.
EPiC tips
Tips are provided throughout EPiC on how to review healthcare with respect to prescribing for priority populations such as Māori and Pacific peoples, or those living in areas of high socioeconomic deprivation.
EPiC Reflect
EPiC Reflect poses key questions around your prescribing data and helps you to identify areas that could be targeted for intervention. You can find the EPiC Reflect tab on the right hand side of the EPiC themes.
Data Methodology
EPiC FAQ
EPiC User Guide
---
Specific data stories
---
EPiC Annual Prescribing Report stories
EPiC Antibiotics specific data stories
EPiC Asthma specific data stories
EPiC Cilazapril specific data stories
EPiC CVD specific data stories
EPiC Diabetes specific data stories
EPiC Gout specific data stories
EPiC Opioids specific data stories
EPiC Youth mental health stories
---
Get started with EPiC
New to He Ako Hiringa? Join He Ako Hiringa by clicking here to create your account.
If you already have a He Ako Hiringa account, you're all set to explore EPiC. Click the button below to go to EPiC.