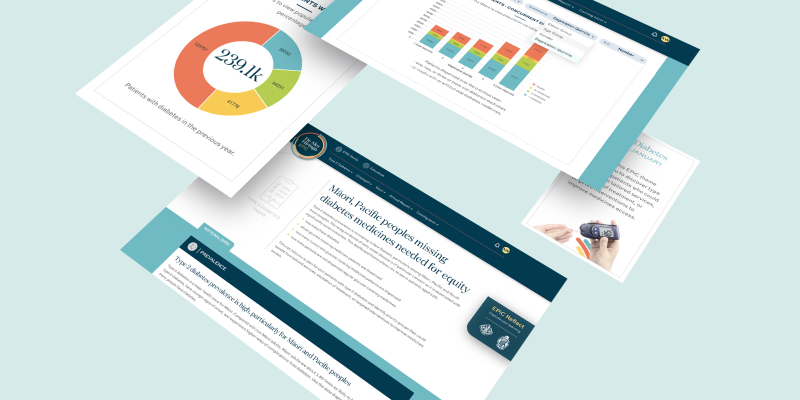 EPiC (Evaluating Prescribing to inform Care) is a free, interactive, personalised, report-style dashboard on the He Ako Hiringa website. Presentation of large data sets in a series of interactive charts allows EPiC users to easily compare medicine use across different populations and demographics, using age, gender, ethnicity, and socioeconomic deprivation quintile filters. Data can be viewed at the prescriber, practice and national levels.
Data themes, with relevant data stories, allow exploration of national problems of prescribing practice such as polypharmacy, and medicine overutilisation and underutilisation in different populations. These issues connect to broader strategies of improving equitable access to medicines and health improvement.
As well as an Annual Report, EPiC themes include asthma, cardiovascular disease, cilazapril prescribing, diabetes and gout, with mental health due in 2023. The centre panel of this EPiC user guide shows a snapshot of the cilazapril data theme, annotated with numbered points to help familiarise you with EPiC's functionality.
Case study
Dr Jones works six sessions per week in a busy Gisborne practice. The practice has recently taken on an additional nurse, Tania, who is keen to initiate and run some quality improvement activities. Dr Jones suggests they first focus on cardiovascular disease, as this is one of the most common long-term conditions in the patients she sees.
Starting point: Dr Jones logs into EPiC and explores the various themes. Looking at the cilazapril dashboard, Dr Jones is reminded that prescribers are being encouraged to move patients off cilazapril due to potential supply issues. She is surprised to see the practice has 680 patients still taking cilazapril – representing 35 per cent of the practice's patients on an ACE inhibitor or an angiotensin-II receptor blocker. Clicking on the National data tab, Dr Jones sees that national-level data show 26.3 per cent of patients taking an ACEi or an ARB are taking cilazapril. Comparatively, her practice is lagging in switching patients to another medicine.
Aim: Proactively move patients from cilazapril to other medicines before cilazapril becomes unavailable.
Actions taken: Dr Jones raises this as a potential intervention at the next weekly clinical meeting. She highlights data from the dashboard showing the practice still has 680 enrolled patients taking cilazapril. She encourages the team to read the articles and links on He Ako Hiringa about switching from cilazapril. Tania runs a query build in the PMS to find all patients taking cilazapril. She adds a note to each patient's file to review cilazapril when they next need a repeat prescription. At this review, changing from cilazapril is to be discussed with the patient and an alternative agent considered. Tania also adds a reminder to book a nurse appointment and/or phone call for two weeks after the medicine has been changed.
Results: The EPiC cilazapril practice dashboard is reviewed six months later. Over this time, the practice went from 680 patients taking cilazapril to 140 patients taking cilazapril. In percentage terms, among practice patients taking an ACEi or ARB, those taking cilazapril now comprise only 7.2 per cent. Dr Jones again compares this with national-level data at the same timepoint, which shows 15 per cent of patients taking an ACEi or ARB remain on cilazapril. The practice is no longer lagging in moving patients off cilazapril; in fact, it is now ahead! Tania had followed up all of the patients and only two had problems with the switch to an alternative medicine; these problems were resolved with dose adjustments. Both Dr Jones and Tania documented their activity in their continuing professional development (CPD) records.
Conclusion and future direction: This was a successful intervention, demonstrating that implementing quality improvement activities around data displayed in EPiC can be simple and effective. Dr Jones and the other prescribers in the practice plan to follow up the remaining patients still taking cilazapril over the next three months, so that none are caught out once the medicine is no longer available. Tania will give regular progress updates at the clinical meetings. Dr Jones and Tania are now planning their next practice quality improvement activity, which will involve using EPiC data to optimise urate-lowering therapy in Māori and Pacific peoples who have gout.
Acknowledgments
Written by: Dr Noni Richards (BPharm, PhD), senior consultant at Matui Ltd
Content updates
6 March 2023: EPiC user guide PDFs updated to version 2