The five drivers of medicine access equity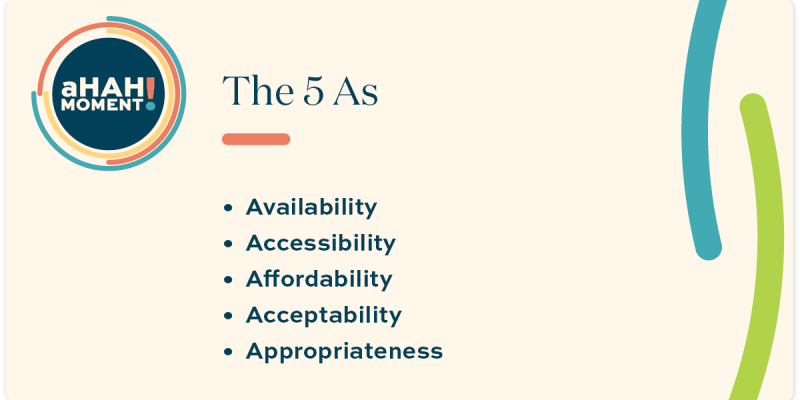 Pharmac has identified five key drivers of medicine access equity in New Zealand, they are outlined below.
1. Availability
Prescriber awareness and knowledge of funded medicines can play a key role in access equity.
It is important that prescribers keep informed of the availability of new medicines and any funding criteria so that everyone who is eligible can access funded medicines.
2. Accessibility
Barriers to accessing medicine can include business opening hours, the location of services, and whether multiple services have to be accessed.
Ensuring your community can physically obtain your services in a timely manner can play a key role in improving access equity.
3. Affordability
Appointments and prescription fees may be unaffordable for some, resulting in patients missing out on treatment. Indirect costs like transportation, parking and childcare can also affect whether a patient can access the medicines they need.
Ensuring your patients are aware of initiatives like the prescription card subsidy scheme is key to improving medicine access equity.
4. Acceptability
Empower your patients by involving them in decision making, asking about their beliefs, considering their health literacy and providing information in an appropriate language. This builds trust and contributes to medicine acceptability, improved adherence and better health outcomes.
5. Appropriateness
Prescribing in a manner that meets your patients' needs and avoids unwarranted variation can help ensure medicine appropriateness.
This is achieved by combining your clinical expertise and evidence-based practice with your patients' preferences, values, experiences, culture and beliefs.1
1. Te Karu L, Bryant L, Harwood M, Arroll B. Achieving health equity in Aotearoa New Zealand: the contribution of medicines optimisation. J Prim Health Care 2018;10:11–15.