Teamwork through a pandemic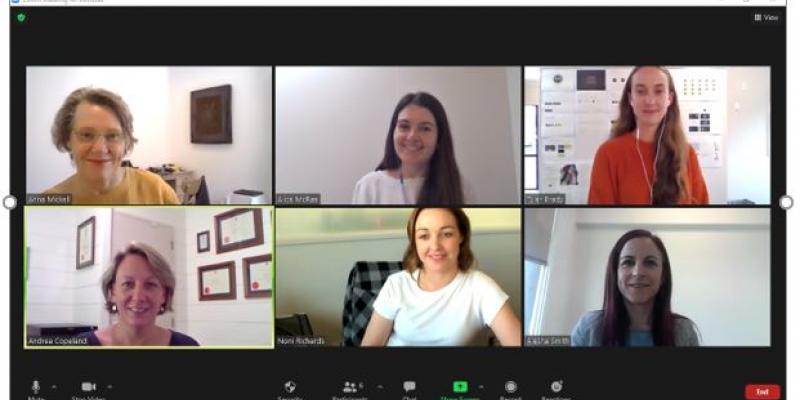 Anna Mickell, Alice McRae, Tyler Brady, Andrea Copeland, Noni Richards and Alesha Smith in a Zoom meeting
Designing and delivering a new primary care education service during a time of COVID has not been without its challenges.
The He Ako Hiringa team has been spread far and wide, from our sector engagement lead Anna Mickell in Queenstown and the health data folk at Airmed in Dunedin, to our clinical education lead Andrea Copeland in Whangārei.
With lockdown complications, some of the new recruits didn't get to meet each until well into the project.
Service delivery manager Tyler Brady was a team of one in the Auckland office for three months before clinical writer Alice McRae came along.
And still, the cancellation of a important stakeholder consultation meeting in Wellington due to COVID means many of the He Ako Hiringa team are yet to meet each other in person.
Co-designing with key sector representatives was also difficult. Many of our most valuable contributors were busy with Covid equity responses and we are still feeling humbled that they made time for our project.
Zooming and teaming
In the meantime, great use has been made of Zoom and Microsoft Teams to keep everyone in touch. The team's long-distance communication skills became especially valuable as the Auckland office went into level three lockdown for the second time.
Lockdown also meant the video "Medicine access equity: A call to action" went from a relatively straightforward interview and video assignment to wrangling videographers located in Whangārei, Gisborne, Wellington and Dunedin.
With no way to leave Auckland, it was only when all the video came back the Auckland office that clinical writer Alice McRae could see the material on hand. Queenstown videographer Interrobang Studios did the final work putting the video together.
Fill the gap
With conferences being cancelled left and right, He Ako Hiringa saw the need for online speaking events, combining forces with Mobile Health, one of the fastest-growing clinical learning platforms in Aotearoa, to produce a series of Zoom webinars.
These webinars feature expert speakers and have a focus on equity – keep an eye on our events page to see our upcoming webinars. If you've missed any webinars, don't worry, you can view the recorded webinar on our ELearning platform.
COVID has resulted in many challenges but the He Ako Hiringa team persevered and has come out the other end bonded through the ether and with a significant upgrade to their Zoom skills.
Progress through pandemic
Developing a new education programme in the middle of a pandemic is certainly not ideal, but with travel and event uncertainty still lingering, the need for online clinical resources is now stronger than ever.
The He Ako Hiringa team will continue to work from across the country to deliver content. Whether that is from our makeshift home desks or in the office, you can be sure that no matter the weather (or the pandemic) we know we can make it work.