Medicines and older Māori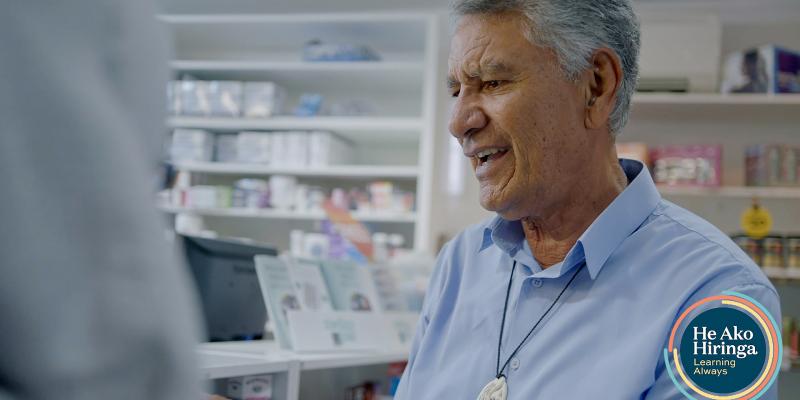 This course comprises four short videos, an independent reflection, downloadable posters, and additional resources. Medicines and older Māori was produced with Jo Hikaka (Ngāruahine), a pharmacist from Waitematā DHB, whose research as a PhD candidate formed the basis of this course. The development of Dr Hikaka's research was made possible with funding from the Health Research Council of New Zealand.
Video 1 - Introduction
This video outlines the course and what clinicians can expect from the videos and other resources.
Video 2 - Ethnic variations in the quality use of medicines for older adults in Aotearoa
Video two introduces concepts around why extra care is needed with medicines use in older adults, how to measure the quality use of medicines, and what the New Zealand data shows us about inequities in medicines use in older adults.
Video 3 - Medicines review services for older Māori
The third video in this course examines medicines review services and how these can improve the safe and effective use of medicines for older adults, as well as the inequities within these review services.
Video 4 - Older Māori experiences of medicines and medicines-related services
In the last video, clinicians hear directly from kaumātua about their experiences of medicines and medicines-related services. These quotes will improve clinician awareness about the real-life impacts of inadequate prescribing on older Māori.
As one kaumātua so aptly stated: "No te whitiwhiti kōrero i mohio ai – It is through shared conversation that I understand".
Video 4 also presents posters that have been developed from the experiences of older Māori. These are available in te reo Māori and English and can be displayed in your place of work.
Independent reflection
After watching the videos and exploring the additional resources in this course, you can complete an independent reflection. This activity encourages you to set goals to improve your management of older Māori patients. To claim continuing professional development points/hours you must watch the four videos and complete the independent reflection.
The independent reflection is formatted as an editable PDF, please note that this will not automatically save to your device. You must download the document, save it to your device, and then fill it in. You will see that we have provided example answers in some of the reflection activities to help you formulate your goals and actions. You should replace these examples with your own thoughts.
Posters
These posters have been developed by Dr Hikaka, in consultation with kaumātua and are intended to encourage them and others to have discussions with clinicians about their medicines. The intention is that if you are displaying these posters, you are prepared to engage in the discussions that are generated from them. Viewing the four videos in this course helps to give context to the posters.
Click here to view the posters in te reo Māori.
Click here to view the posters in English.
Additional resources
These additional resources include tools, articles and links that could help you to improve your treatment of older Māori.
Professional college endorsements
The College of Nurses Aotearoa (NZ) has endorsed this course for 45 minutes of professional development. It may also be used by pharmacists to assist in completing a written reflection for PCNZ annual recertification.
This activity has been endorsed by The Royal New Zealand College of General Practitioners (RNZCGP) and has been approved for up to 0.75 CME credits for continuing professional development purposes (1 credit per learning hour). To claim your CPD credits, log in to your Te Whanake dashboard and record these activities under the appropriate learning category.