CQI Toolkit – Antimicrobial stewardship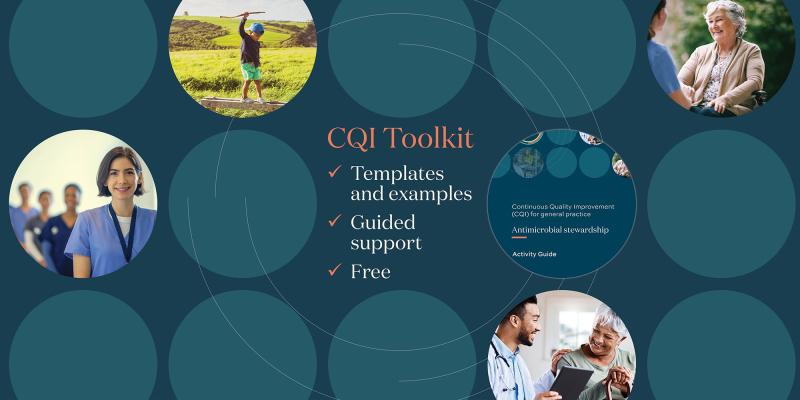 This continuous quality improvement resource has been designed as a toolkit consisting of an Activity Guide, a Data Collection Form, and an Information Sheet.
The CQI Toolkit uses antimicrobial stewardship as its focus, and is suitable for any general practice team member who wants to:
meet various criteria of the Foundation Standard (accessed via annual fee to RNZCGP)
help meet requirements of the Cornerstone CQI module (purchased from RNZCGP)
support individual team members' professional development activities
action their EPiC dashboard data insights
improve practice efficiency, save time and money
fight antimicrobial resistance and protect the health of future generations!
The CQI Activity Guide contains all the steps to completing a continuous quality improvement initiative around antimicrobial stewardship. For each step, the guide provides:
pre-written and editable templates, pre-populated with ideas and suggestions
examples of how to use data from the EPiC dashboard
access to other resources you can use and/or individualise to suit your practice.
Step 1: The thinking part
Identify an area for change
Select quality improvement tools
Define problem and aim statements
Select measures
Collect baseline data
Step 2: The doing part
Prepare your team
Select change ideas
Test your changes
Implement your improvements
The Data Collection Form gives you a place to record your findings as you go through the steps in the Activity Guide (we will point out when it's time to do this). The editable PDF form provides suggestions and examples, which you can adapt to your own practice.
If you are using the toolkit to help you meet Foundation Standard indicators or Cornerstone CQI module requirements, you can upload the completed Data Collection Form for assessment.
The Information Sheet summarises the contents and purpose of the CQI Toolkit and why you or your team might find it useful. We encourage you to distribute the Information Sheet to your colleagues.
Ready to get started on your CQI journey?
Download the CQI Toolkit or email us at admin@akohiringa.co.nz for a free printed version.
Get your team together.
Book a free, one-hour EPiC training session – we'll help you kick things off in your practice! Click here to book.
Professional college endorsements
This activity has been endorsed by The Royal New Zealand College of General Practitioners (RNZCGP) and has been approved for credits for continuing professional development purposes (1 credit per learning hour). To claim your CPD credits, log in to your Te Whanake dashboard and record these activities under the appropriate learning category.
This activity has been endorsed by the PSNZ as suitable for inclusion in a pharmacist's CE records for CPD purposes.