Identifying Variations in Diabetes Prescribing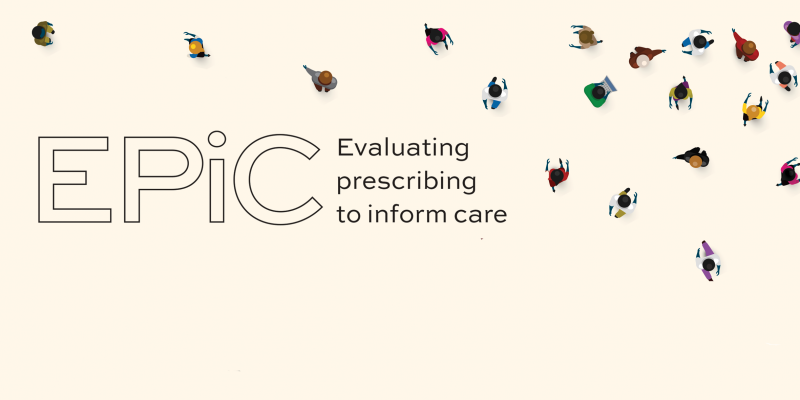 EPiC, a free dashboard built for GPs interested in improving their practice with respect to equitable prescribing of funded medicines, is now available
The dashboard allows an individual GP to explore their prescribing behaviour while comparing to the prescribing behaviours of their colleagues and the national data set.
EPiC uses aggregated dispensed medicine data from the Pharma­ceutical Collection to create the interactive, personalised dashboard. A description of the methodology used to create the dashboard is available on our website.
The first dashboard, EPiC Diabetes 1.0, is targeted at GPs and supports PHARMAC's focus on improving the appropriateness of prescribed, funded medicines used in the treatment of type 2 diabetes, particularly for Māori and Pacific peoples. The launch of the dashboard is timed to coincide with the listing of empagliflozin on the Pharmaceutical Schedule and will allow prescribers to evaluate how these newly funded medicines are used in priority populations over time.
The initial data stories available in the dashboard include demographics, current treatments and stepped treatments. EPiC Dashboard 2 is in development and will be expanded to include three new data stories: people with an ED or other hospital admission, people who have cardiovascular medicines in combination with diabetes medicines, and adherence rates.
Working with sector stakeholder representatives, EPiC's development plan is being finalised to allow expansion for nurse and pharmacy prescribers, as well as the management of patients with asthma, cardiovascular disease and gout.
The EPiC Diabetes Dashboard was designed alongside Māori partners and key stakeholder representatives to ensure that the tool is easy to use and comprehend. A video user guide is available here.
Who is EPiC for?
The EPiC Diabetes Dashboard can be used by GPs to view their data for any patients dispensed glucose-lowering medicines. GPs can then compare their patient prescribing to all patients within their practice and to the national data set.
Health professionals without individual dispensing data can still use the dashboard to explore prescribing trends in the use of medicines for type 2 diabetes at a national level.
What can EPiC do for GPs?
By being able to see who prescriptions are going to, the type of medicines being prescribed and the number of treatments their patients are receiving, GPs can easily analyse their own prescribing behaviours.
EPiC allows GPs to see how their prescribing differs to others', both within their practice and across the country. EPiC's different filters and comparison options allow GPs to drill into the data and see where small changes can make a real difference for specific patient groups.
EPiC can also assist GPs in completing professional education activities such as reviewing and reflecting on practice and measuring and improving outcomes.
No individual patient data
EPiC allows GPs to break down their prescribing data into many categories, but it does not give access to individual patient details. EPiC was built to be used as a general tool for exploring prescribing behaviours and highlighting areas where prescribing could be improved, rather than presenting individual patient details.
Who made EPiC?
EPiC has been created by He Ako Hiringa, a joint venture between Dunedin health data com­pany Airmed and The Health Media, with support from PHARMAC. He Ako Hiringa works with PHARMAC's Responsible Use of Medicines in Primary Care Expert Advisory Group (consisting of GPs, pharmacists and nurses) to identify and prioritise new developments. You can find out more about our expert advisors on the He Ako Hiringa website. Further engagement is also under­taken with Māori clinical representatives and other clinicians during product development. User feedback is welcome and appreciated, please email admin@akohiringa.co.nz
How to use EPiC – Data Stories
Demographics
The demographics section of EPiC allows a GP to explore the demo­graphic profiles of their patients who have been dispensed
glucose-lowering medicines.
Demo­graphic data can be filtered by ethnicity, deprivation, age group and gender.
Patient demographic breakdown can then be easily compared to all the patients in your practice and the demographics of patients across the country.
Current treatments
The current treatments section of EPiC breaks down patients by the funded glucose-lowering medicine they have been dispensed.
Ethnicity, deprivation, age group and gender filters can be applied to these data. Current treatments data can also be compared to the treatment break­down of patients in your practice and nationally.
Stepped treatments
The stepped treatments section of EPiC allows GPs to view their patients by the number of glucose-lowering medicines they have been dispensed. Patients are grouped into either one, two, or three or more oral glucose-lowering medicines, or insulin.
Stepped treatments data can also be viewed for all patients in your practice and nationally.
Filters can be applied when viewing stepped treatments data so that patients can be viewed by gender, age group, deprivation or ethnicity.
Stepped treatments data can be especially useful in helping you to identify which of your patients would qualify for, and/or do best on, the newly funded diabetes medicines.
Are you interested in EPiC?
If you are already a He Ako Hiringa member, you don't need to do anything more than just keep an eye on your emails for information about how to log in.
If you are not a He Ako Hiringa member, simply register here and then wait for an email - it's that easy.
A word about data privacy – Individual GP prescribing trends are not shared with any party other than the prescribing GP. To protect your privacy and the integrity of the Pharmaceutical Collection data, you will be asked to provide your full name (as displayed on the Medical Council of New Zealand register) and go through a two-step identify verification process upon first logging into EPiC. Please make sure you have either a valid driver licence or passport handy.
Email admin@akohiringa.co.nz or call 09 488 4286 for any questions or issues.