EPiC Diabetes - medicine supply data story out now!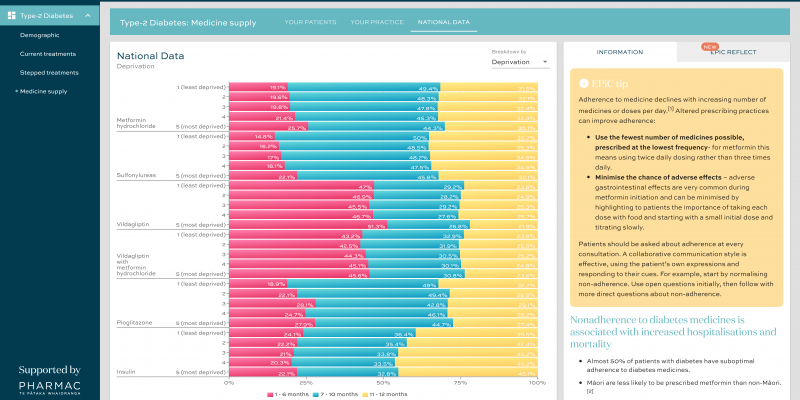 National view of the medicine supply data story
The EPiC Diabetes medicine supply is our most compelling data story yet. Using dispensing data, this dashboard provides clinicians with a way to see how many patients with type 2 diabetes have picked up their medicines regularly over a 12-month period.
This new data story allows all healthcare providers to consider, and improve upon, the quality of medicine supply to their patients. This is an important factor affecting adherence to treatment regimens.
Nationally, it is sobering to see that only 35% of European/Other New Zealanders prescribed metformin have a good medicine supply (11-12 months per year). This drops to only 27% for Māori and Pacific peoples. These data are confronting, especially when we consider that non-adherence to diabetes medicines is associated with increased hospitalisations and mortality.
We encourage GPs to sign up so they can log in to EPiC to view their own data.
If you don't have an EPiC account, you can still view the national medicine supply data story.
The EPiC Diabetes medicine supply data story groups patients who have had one or more dispensed medicine for type 2 diabetes by how many months they have been supplied a funded glucose-lowering medicine over a 12-month period.