View your 2022 EPiC Prescribing Report and win!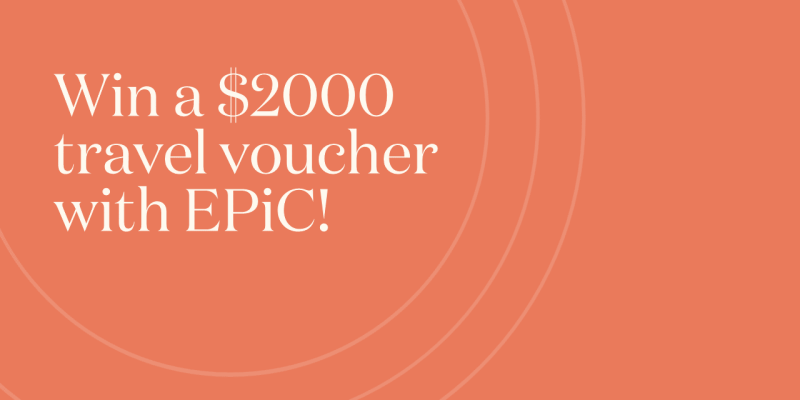 Log in to EPiC and view your report by 31 July 2022 and go into the draw to win a $2000 travel voucher.
Accessing your report is free and easy; log in with your New Zealand Doctor, Pharmacy Today, or He Ako Hiringa account. Or sign up for your free account at epic.akohiringa.co.nz.
The prize draw is subject to the following terms and conditions:
The draw is open to general practitioners, nurse practitioners, nurse prescribers, and prescribing pharmacists who are working in primary care settings in New Zealand.
To be eligible for the draw, the prescriber must have logged in to view their EPiC data between 1 May 2022 and 31 July 2022. They must be the owner of the account they logged in with, and can log in with their He Ako Hiringa account, or their New Zealand Doctor or Pharmacy Today accounts.
A winner will be randomly drawn on Monday 1 August 2022. The winner will be contacted via email. Three attempts will be made to reach the winner. If no response is received by He Ako Hiringa within a week of the third contact, a new winner will be drawn. This process will apply until a winner is successfully contacted.
The winner will receive a $2000 travel voucher for use with a travel company chosen by He Ako Hiringa. The total value of the voucher must be used in one transaction or any remaining credit will be forfeited.
The prize cannot be swapped for cash or transferred to a different travel company.
Booking of travel is the responsibility of the winner, who will need to contact the travel company directly to arrange.
By accepting the prize, the winner agrees to their name and location (town/city) being publicly announced, and will provide a brief comment about EPiC data for use in He Ako Hiringa promotional materials.
Click here to view your EPiC data now!